Regional Committee for Latin America and the Caribbean
Regional Committees are groups of civil society entities committed to the Campaign that volunteer to promote and disseminate its objectives, adapting the campaign to their respective regions.
The Committee for Latin America and the Caribbean was established in October 2016. Horacio Llovet and Javier Krawicki, founding partners of Tu Primera Pega, are the coordinators. Their entity is an organisation based in Chile and Argentina, whose purpose is to help young people to find their first job.
The decision to entrust them with the Regional Committee is based on their tenacity and consistency disseminating the project and their capacity to mobilise young people wherever Tu Primera Pega exists.
Strategic activities
The Regional Committee for Latin America and the Caribbean will be working on three main aspects: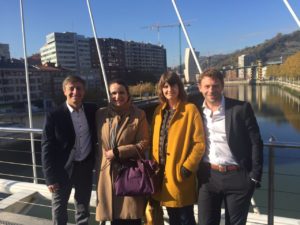 Communication and awareness: Raising awareness about the project is essential. It will promote and organise events in society, manage the media, and announce the Campaign's activities and achievements with a view to communicating and raising awareness regarding the fields of activity mentioned.
Knowledge creation: Achieve a better understanding of local, regional, and national situations regarding youth employment through intensive research work based on reports, universities, think-tanks, and organisations dedicated to employment and youth issues.
Institutional relations: Establish the necessary institutional contacts and design actions to seek and consolidate social and political support to undertake all Campaign activities: civil organisations, governments, political parties, trade unions, academic institutions, businesses, and international agencies.