In response to the high youth unemployment rates currently found in Chile and around the world, the #porelempleojuvenil Campaign was launched for the first time. This campaign aims to generate, with the collaboration of the UN Pegasus Project and the OIJ, activities that directly focus on promoting and strengthening youth employment. Consequently, as the key activity, the First Youth Work Fair of Estación Central, organised by the Centro Ideactiva of the Municipality of Estación Central, was held from Wednesday 13th to Thursday 14th of April. The purpose of this fair is to promote the employability of young people in the Metropolitan Area by offering job openings with flexible timetables and, in addition, providing the necessary skills in Labour Law and Professional Training to look for a job.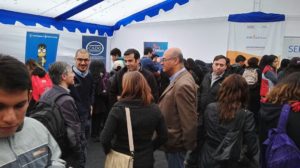 Fifteen companies or organisations (Sygnus, Vendetú, Fundación Cades, Tu primera Pega, Instituto Profesional Santo Tomás, McDonald's, Adecco, Randstad, Vendedores Virtuales, Grupo Nehuén, CADO, Progestión Chile, KidZania, SENCE and INJUV) are taking part in this event by providing more than 100 direct part-time or full-time jobs for young people attending the fair. Jobs, such as: Maintenance of restaurant machinery, waiters, restaurant order takers, salespersons, shelf stackers, supervisors, designers, security guards, IT experts, sales managers, promoters and bar tenders among others. In addition, people participating in the event will also be able to obtain information on the benefits and offers of youth programmes sponsored by SENCE, INJUVE and the Santo Tomás Professional Institute in Estación Central. The young people present were also able to attend conferences on how to find jobs and reconsider certain paradigms when looking for jobs delivered by Horacio Llovet.
All young people (16 and over) from our commune and the region were invited and more than 200 people visited us on 13th and 14th April.
¡#Porelempleojuvenil!