75 million young people are unemployed. A figure that is high even if we look at the numbers in Europe, where 6 million are jobless, of which 3 million live in Spain. To respond to this "harsh reality" plaguing the entire world, the Bilbao Youth Employment Forum opened yesterday. Organised by the Novia Salcedo Foundation, it is part of a campaign to convince the United Nations General Assembly to declare the period 2019-2028, a Youth Employment Decade.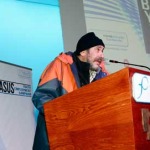 This initiative will help young people, like Koldo's daughter, to enter the labour market. "Work has become an Asian luxury that only seems to be available to a few". Worried about the current situation and its effects on the future of society, he is concerned that his beloved Amaia may catch the next ship and look for work in other parts of the world. "Why must we lose highly talented young people? This is a huge failure, just think about it". This is a fictional story told by the actor Karra Elejalde to describe the current situation that this forum wants to deal with.
The experts present will try to identify how to prevent the increase in unemployment and the "significant" differences that exist between member states of the European Union, such as between Germany and Spain. Discussions that will focus on the factors that act as "barriers" to youth employment and that will be attended by ambassadors and ministers.
The conference began yesterday at the Bizkaia Aretoa and will extend throughout today. Juan María Aburto was present at the opening ceremony and stated that "young people are the future of the economy and, above all, of society". Therefore, they must not become "marginal elements". Equally, the regional minister of Economy and Social Policy of the Basque Government considered the transition from education to the labour market a "decisive" aspect. A process that many young people ignored when the housing bubble developed. That was a period when the classrooms emptied with the hope of a better future in the construction industry. "They realised it was far more
productive for their future to abandon their studies and work in the building sector. They were guaranteed high salaries and a lot of work". Now, with this new panorama, many lack the skills required to perform other activities.
Support for the UN Assembly in declaring the Youth Employment Decade 2019-2028 is also coming from the Spanish Youth Institute. In words of its Director General, Rubén Urosa, the government is "determined" and is "close" to reaching an agreement to promote this initiative. The truth is that it affects government and businesses, trade unions and civil entities that must all "struggle" together to solve this issue.
It is a problem that has highlighted the situation that NEETs, young people who neither work nor study, find themselves in. Today, one in seven have lost all hope of finding a job that will enable them to live "a productive life". Indeed, when they find employment, it is usually a temporary or part time job. This is why generating employment must become the political "priority" in every country, stated the Assistant Director General for Policy, ILO, José Manuel Salazar-Xirinachs.
On the other hand, the Mayor of Bilbao, Ibon Areso, said that after five years of the crisis of "greed" and "anything goes", young people find themselves in a situation of "disenchantment with the economic and employment future, they do not trust the political class and feel insecure when planning a life project". A situation with which they have "plenty" of reasons to proclaim their "displeasure".
Furthermore, Luis Cañada, president of the Novia Salcedo Foundation, stressed the differences with countries where the approach to youth employment has been "acceptable" These are societies in which governments, business associations and unions "enjoy" a level of prestige and "use" their capabilities and dialogue. They also enjoy a "strong and transparent" democracy and State.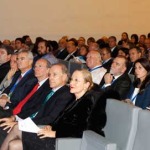 The opening ceremony was also attended by the rector of the UPV/EHU, Iñaki Goirizelaia, who indicated that the university "does not prepare people for employment". If it prepared people for employment, society would be doomed to live in the present without considering future changes. This is why "its task is to create free, capable, flexible, critical and self-critical citizens, not employees".
The Bilbao Youth Employment Forum declares that youth unemployment does not have a single solution but that the main parties affected, companies that want to improve their productivity and society, must come together. Today, there are over 1,400 people, 80 entities and 14 countries that have announced their support to convince the UN General Assembly to declare the Youth Employment Decade 2019-2028.