Two of the founders of the Building Bridge Foundation travelled from Holland to South Africa on two wheels to promote change. This foundation is a not-for-profit organization whose main mission is to see the Agenda Post-2015 from another perspective where young people can display their perspective and their full potential. This initiative began in Holland involving its founding partners, Jilt van Schayik and Teun Meulepas. Both are sports enthusiasts and particularly love cycling.
To try to understand the views of young people, in the field, they embarked on a bicycle trip that took them from their native Netherlands to South Africa. An adventure full of anecdotes during which they connected with many people of all ideologies and views. A rewarding trip during which they obtained first-hand knowledge of what young people want for the world in 2030. Two continents, more than twenty countries and hundreds of new people who have seen these two cyclists with the enthusiasm to change the world. During their stop in Bilbao, our colleague, Iñigo Rivera, met them and exchanged views on these issues.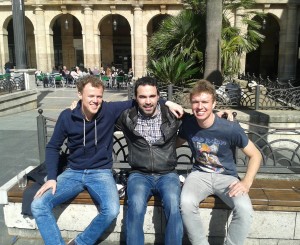 After completing their adventure, they are trying to contribute to the recently approved United Nations Sustainable Development Goals. For this reason, in addition to explaining their experiences on the trip, they have included the testimonies of 17 young people they met and interviewed along the way and added one to each one of the 17 Global Goals. The results is magnificent, as these are real testimonies by different people with a shared goal: the Agenda Post-2015 and to try to build a better world together.
These two young Dutchmen have just covered 10. 830 kilometres. After arriving in South Africa, they have continuously talked about their trip and the testimonies they have collected along the way. Furthermore, the Building Bridges Foundation attended the 70th General Assembly of the United Nations in September. A perfect example of how young people with the drive and energy are prepared to work towards changing the world.