The NGO, Action Against Hunger, has launched a project to support young people known as NEETs
The NGO, Action Against Hunger defines the "IN Generation" as nonconformist, restless, INtelligent (Note: in Spanish: INconformistas, INquieto, INteligentes). Although this is a play on words regarding young people who neither work nor study (NEETs), the organisation has come up with a plan to find them a place in the labour market. By means of the Youth Entrepreneurship Itineraries, the NGO will help 1,300 young people aged 16 to 30 to start their own businesses or become self-employed.
The Youth Entrepreneurship Itineraries mainly target people from this generation who want to reverse their situation by opening a business. To do so, they will be given the chance to take part in workshops, games and personalised guidance sessions. In addition, young people will receive assistance to launch their projects and may even have access to micro-credits if they need funding.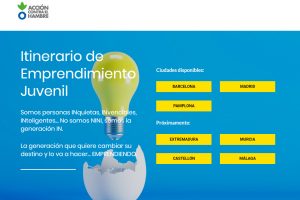 This assistance also implies developing the necessary skills to become an enterprising individual (resistance to stress, leadership and problem-solving skills, among others) to improve their self-knowledge and personal development through prototyping ideas and participating in competitions. They will also learn about marketing, customer loyalty, and business planning, among other aspects.
To join this project, young people must be registered in the Youth Guarantee programme (or meet the requirements to register), they must have a business idea, and reside in cities where the plan is being implemented. At the moment, registration is available in Madrid, Barcelona and Pamplona, and in the coming months, it will also be available in Murcia, Alicante, Malaga and in the region of Extremadura (the city is yet to be established). Young people can sign up at the following link. (www.somosgeneracionin.org).
Against Chronic Youth Unemployment
The goals of this project include motivating and facilitating access to the job market for young people considered to be NEETs. The percentage of young entrepreneurs in Spain stands at 4.9%. Although the trend is growing, this figure is lower than in other European countries. Even though nearly 40% of these young people have higher and medium level studies, they are unable to find jobs. According to data from the National Institute of Statistics (INE), 13.8% of young men and 12.8% of young women are unemployed.