Among the paradigms of the 21st century, we have sustainable social and economic developments that seek specific solutions to world problems, including unemployment. However, as I have learned to analyse these circumstances, I am convinced that a problem can become an opportunity and that is how I propose we should address youth unemployment. It should be seen as an opportunity through the International Campaign for a Youth Employment Decade that the Novia Salcedo Foundation is heading with a view to generating an international movement of reflection, discussion and action that will contribute ideas, content and solutions to the unemployment issue or to the problem of sub-standard employment that millions of young people are experiencing in hundreds of places around the world, based on a final proposal: add youth unemployment to the Global Human Development Agenda through the Proclamation of a Youth Employment Decade by the UN General Assembly.
In January 2018, when I became aware of this project, I decided, together with my team, to submit a Proclamation Project to the Honourable Chamber of Deputies of the Argentine Nation to seek their support for the Campaign and, thus, invite many members of parliament to join this movement to promote a space where we can discuss global public policies to help young people to enjoy greater job opportunities and improve their social-cognitive conditions so that they can face the new world of labour. We are already taking this first step: "THE ARGENTINE CONGRESS SUPPORTS THE INTERNATIONAL CAMPAIGN TO PROCLAIM A YOUTH EMPLOYMENT DECADE".
In this period, in which we find ourselves today, we must face the lack of jobs and a dynamic and fast-paced challenge, such as the many new jobs that are appearing. Those of us with responsibilities in designing labour policies must also provide the regulatory framework to allow these new jobs to develop and to protect the fundamental rights of our society.
Today, our young people are faced with the challenge of a new labour market, where technology may be an ally and not a barrier, an element for personal development and not a modern form of slavery; today, the new ways of working place us all in a situation where we must preserve the dignity of the workers without killing the opportunity for development.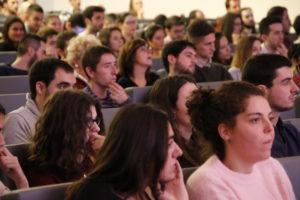 All these issues, with which we are all familiar and that have multiple diagnoses, need to be coordinated and require a meeting place. Today, from every point on the planet with their respective particularities, there is a common place: "increasingly more young people have fewer possibilities of getting the best jobs".
This is why it is essential that we continue to speak in favour of the Campaign to proclaim a Youth Employment Decade and that, anywhere in the world, through initiatives and activities promoted by civil society or in cooperation with the public sector, the private sector, and the trade unions as strategic allies, millions of people should unite to raise the awareness of world leaders about youth employment issues.
The G20 Declaration in the city of Buenos Aires on 2 December included several paragraphs that drew attention to future jobs and to inclusivity. This is why I insist we have an OPPORTUNITY worthy of the effort of millions of people to achieve the Proclamation of a Youth Employment Decade by the UN and that TOGETHER we should move forward and talk about the Future of Labour and build a much better global society.
Martin Medina
Diputado de la Nación Argentina