The second part of the report 'The comings and goings of young foreigners' features two Colombians, one Romanian and a Nigerian who are not giving in and, despite the problems they are going through, want to remain -and above all work- in the Basque Country.
The busy summer months have given way to the quiet, short and grey winter days, and, therefore, Guillermo Quiñones, a 24 year old Colombian, only works on Saturdays at a catering business. He arrived with his mother when he was just 9 to reunite with some uncles and cousins who had encouraged them to come. While in the Basque Country, Guillermo finished his secondary studies and a Diploma in Administration, thanks to which he got his first job, although he finally resigned to go to Tampa (Florida) in 2013 to try his luck at music, his true passion. However, after six tough months, he came back and, together with his cousin Kevin, created the urban salsa duo, Los Adonis, whose songs began to be heard timidly in some discos and Latin radio stations. He is now studying musical production and his mind and heart are set on staying here because Colombia is no longer a destination for Guillermo, even though he still retains links with his country, especially in relation to music. Colombia is his past, but his future is in the Basque Country. "For a young person who has emigrated when he was 13, who has studied here, has roots and expectations here, it is not easy to go back. If you have to go, your life is acutely affected. You are no longer used to the way of life over there", says Moreno.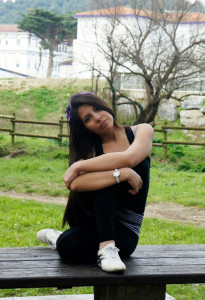 Natahly Garcia landed in Bilbao seven years ago when she was just 12. "It was a Tuesday and on the Thursday I had to go to school," recalls this high school student and sales agent for kitchen blenders. She has also gone through a long process to adapt to the lifestyle and studies in the Basque Country and, therefore, resists the idea of going back to Colombia; something she knows will finally happen because her father is now unemployed and her mother, although working as a domestic helper, wants to go back. "I have been unlucky because I took a hotel maid course and did a work placement at the Tryp in Bilbao, but a week after finishing, it closed," she says. The hotel chain not only dismissed 24 people when it closed in 2013, it also destroyed her expectations of working in this sector. Since then, she has been trying to sell Thermomix machines and works on Mondays at a friend's grocery store, although without a contract at the moment.
Without travelling companions
"Human capital, studies and work experience are fundamental aspects if young immigrants are to improve in the labour market", says Gorka Moreno, adding that the situation of thousands of young foreigners has become "chronic" because they have dropped out of their studies and, as they do not have the necessary qualifications, they cannot access the labour market, which has closed its doors to young people in general. Others, struggle to remain within the system on a contract to contract basis and training in the hope of better times to come, such as Flor Chiriac, 28, who came from Romania by herself almost a decade ago. "My first job was in the hotel and restaurant business, but I have also been a sales agent and a hostess; I have supervised events and coordinated teams; in addition, I have worked as a model at times", says Flor who also studied Audio-visual Communication and has gone through the tough experience of emigrating by herself.
K.S., 23, comes from a small town near Benin, in the heart of Nigeria. Like thousands of young sub-Saharan immigrants that arrive in Europe each year, his head was full of stories told by neighbours, friends and family of a land to the north where everyone had a car, trendy clothes, mobile phones and comfortable houses. However, after his third winter living in the street, K. S. admits that the carriage became a pumpkin, that Europe is no longer his dream, but his nightmare. "My father died a year and a half ago and I wasn't able to go to his funeral," he says with bitterness. This tough lad has been living off charity and spends endless hours in public libraries fleeing from the cold and rain, waiting to achieve the necessary seniority on the municipal register, for which he pays every month, to be entitled to social services. K. is only one of the many young foreigners roaming the streets and excluded from the labour market, whose chances of integration are getting smaller and whose situation is getting worse.