On June 19, the Campos Elíseos Theatre in Bilbao will host a charity concert at 20:00 organised by the Novia Salcedo Foundation in favour of the International Labour Organization's initiative 'Red Card to Child Labour'. The purpose of the campaign is to attract attention to a surprising situation: while 75 million young people of working age worldwide cannot find their first jobs, there are 165 million children working in fields, mines, workshops, factories…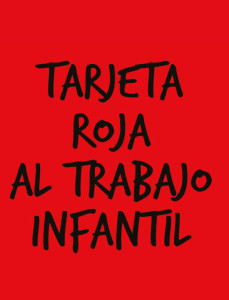 The concert, which will also be used by the NSF to seek support for the declaration of the Youth Employment Decade, will be given by the soprano Pilar Jurado, who will be accompanied by the Youth Orchestra of Leioa and by the Children's Choir of the Conservatory of the Bilbao Choral Society (Sociedad Coral de Bilbao). Interspersed with the musical performances there will be awareness messages regarding the consequences of child labour and how we can end this scourge.
Tickets will cost 14 euros and can be bought via tiquetea and the Novia Salcedo website. People who are unable to attend the Theatre but who wish to cooperate in the campaign can enjoy a 'row zero', also via tiquetea, where they can make a donation.