Juliana Garcia has her own television programme. Javier Raventós has organised one of the best mountain races in the north of Spain, Mikel Secada runs his own on-line Marketing company, and none of them has reached the age of twenty-five yet. These young people have learned to break the rules; for them and for many other entrepreneurs under the age of thirty, the labour market is no longer a challenge, and they refuse to belong to the ever-increasing percentage of unemployed young people in Spain. To achieve this, they have applied the most important rule: "No pain, no gain". And they have managed to make their dreams come true. They are happy to tell about the necessary steps to achieve a better future and to get rid of that label that says that young people neither study nor work.
Juliana García
Juliana (23) has always been a cosmopolitan girl. Her family was always moving from country to country because of work, influencing, without realising, their daughter's future. During one of those trips to Greece, Juliana, who is currently studying journalism, had a great idea: "All I could think about during the tours was that I wanted to tell the world what I was seeing, then I thought about the people who wanted to know more about the cities and who, for whatever reason, were unable to do so. Then, I got the idea of creating Cámara Viajera (Travelling Camera)".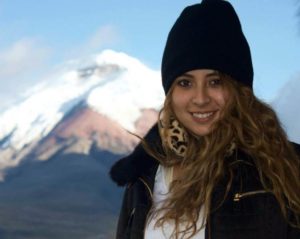 She casually asked her mother to record her during a visit to the Parthenon in Athens. And now, almost 3 years later, her programme is being broadcast on channels like Señal Internacional de Canal Caracol, Ecuavisa, or Canal Panamericana, some of the most widely viewed channels in Latin America.
With a simple project, year after year, she helps hundreds of spectators to discover curiosities typical of touristy areas around the planet. "Based on the format 'Five things you didn't know…' I try to provide another perspective of the city. I try to enjoy every aspect of the country and if I can share this with the world, so much the better", she explains.
More than 180 countries already enjoy the reports that Juliana García and her team record, edit, and share on her YouTube channel. However, Latin America is no longer enough for her, and she is planning to expand her project to Spain and North America, by making it into her very own television programme.
For her, the key element is "finding what you like and making it your job", enjoying everything you do, "because if you do something with love and enthusiasm, you are sure to do it well".
Javier Raventós
It all started as a university project. Javier (21), from Sant Cugat del Vallés, would never have imagined the impact his simple idea would have on society. Together with two colleagues, Nacho Rodríguez and Carla Sala, they created what is known today as Izaga Trail.
With a lot of work and dedication, the team devised and planned a mountain race that would change their lives. And thus, his great project was born. Without realising it, they created one of the 22 most important mountain races in the north of Spain. "At first, we weren't sure the idea was going to work despite having worked a lot for more than half a year. To see what would happen, we decided to submit the project to the Navarra Mountain Sports and Climbing Federation, and a few e-mails later, the Izaga Trail became a championship", says Javier.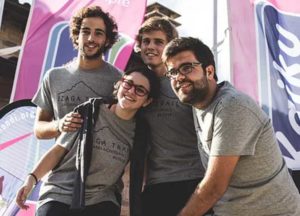 The project, which urges people to do sport, takes place every year and attracts more and more people. It features two different types of race: one is an 11 km route for the fastest or for beginners, and the second is a 27 km route for the brave who want to make their way around the Mount Izaga.
Another three members have now joined the team, Ramón Llorens, Javier Laguia and Josep Serra, who struggle each year to ensure that the idea of the mountain enthusiast, Javier Raventós, takes place without interruption. The race has several sponsors, such as Kaiku, Powerade, or Amstel, and is seeking to spread to other areas of the peninsula.
"The key aspect is to do things with enthusiasm, not to listen to the people who say you are going to fail. If, when we started, somebody had mentioned everything I was going to achieve, I wouldn't have believed it. Three years on, here we are, organising the second edition of the Izaga Trail", says Javier.
Mikel Secada
Mikel Secada (23) was studying in at the Politeknika Ikastegia Txorierri in Derio (Bilbao). While attending an entrepreneurship workshop, he came up with a business idea. Since then (2013) and up to 2015, he developed a business plan that would lead him to establish his own business.
Teknomarketing is an on-line marketing agency and consultancy firm that seeks to position brands on the Internet. The company works in three fields: communication, graphic web design, and on-line advertising, such as Google and Social Media. Thanks to his business, brands like Erkoreka Consultores or One Expert, have improved their turnover. This has made this young freelancer into one of the youngest businessmen in Spain.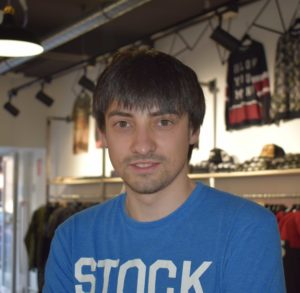 "Through this project, I intend to help SMEs and entrepreneurs to improve their hit rates on the Internet. That will help them achieve their goals more quickly and easily. However, we also work with established companies that want to upgrade and renew their image on the Internet", says Mikel. In addition to on-line content, Teknomarketing focuses on other aspects, such as the live streaming of events.
Thanks to the Secada's efforts and the support of entities such as Politeknika Ikastegia Txorierri, or the Basque Government, his company has managed to develop and break into the Spanish labour market, achieving unexpected results that demonstrate, once again, the skills of young entrepreneurs.
One thing is clear: "The key is knowing what you're doing, and do it well. If you work and have the necessary enthusiasm, even setting up a company becomes easy".
Azeri Natura
Xabier Solarzano (29), Javier Fernández (30) and Pablo Mariz (38) have always been nature enthusiasts. So much so that, with the help of Javier's qualifications in Environmental Control and Education, and all the knowledge that Xabier obtained as an entertainment officer, they decided to create an association to help them transform their passion into a way of life.
The result was Azeri Natura Guztiontzat, a small social initiative cooperative that has been working for two years to bring nature closer to people. Based on customised activities, Javier, Pablo and Xabier intend to convey an innovative, dynamic, and active type of environmental education that will bring the world of nature to anyone who wants to experience it.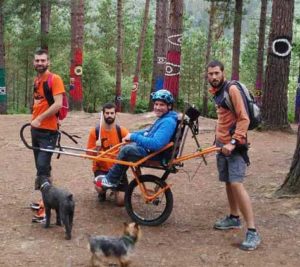 This initiative intends to teach everyone how natural environments works and, thus, how to adapt to the without damaging them. Every day, Azeri Natura Guztiontzat endeavours to teach us to live a sustainable life that reduces our impact on the environment.
Guided tours, adapted hikes, training activities, and workshops in the midst of nature are used by this small cooperative to raise awareness of the most amazing spots in Bizkaia and the Basque Country, always based on green values. In addition, they believe in the non-existence of barriers. With the assistance of unique tools, such as directional bars or off-road 'Jaolettes' (single-wheel chairs, pulled by two guides, that can cross any type of terrain), they enable people to visit landscapes in their country regardless of any motor, physical, or sensory impairment they may have. "The satisfaction we feel each time we do an activity is enormous. Just knowing that we are helping someone is very satisfying", explains Xabier.
In addition, through interactions with birds of prey, Azeri Natura Guztiontzat stimulates the senses of touch, hearing, vision and even smell; an activity that targets any group with functional, intellectual diversity, or neurodegenerative diseases. "We work to overcome barriers – says Xabier – we try to discover new enthusiasms, regardless of whether people can see or walk."
These young people won the first prize at the Business Projects Competition organised by Work-Lan in 2015 and the second Urratsbat Award 2016. Their project has also been recognised by Fekoor, thanks to their assistance in fostering inclusion in nature and Bihotza Saria '16 in the field of entrepreneurship.
In their opinion, "the key is to define your idea, be different, and work very hard, always united and with enthusiasm, giving your all without expecting anything back", says Xabier.