The video game industry has been growing in Spain since 2014 and, indeed, is the audiovisual industry with the highest turnover each year, greater than cinema and recorded music. Not in vain, the 1,530 million euros it invoiced in 2018 (12.6% more than the previous year) place it among the world's 'top ten' on a list headed by China, the United States or Japan, which have been the leaders in the sector since 2009.
"Going your own way is the best professional lesson for a new graduate"
One of its variants is eSports; competitions and leagues for a range of games with a turnover of 14 million euros in one year. With these data on the table, it is not surprising that it has also become a market that people, especially the youngest, see as an option for the future. egoGames is a young business that was established two years ago to democratise eSports so that all gamer types could compete online against players from all over the world. "The platform makes it possible to turn any simple game of skill into an eSport so that anyone with some practice can enter the world of competitive videogames from their mobile phone", explains Álvaro Rodríguez, Chief Marketing Officer of egoGames.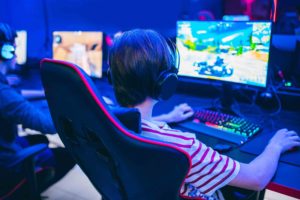 The company was set up in 2017 as an innovative project in the Business Institute as a result of a final degree project and, at first, it targeted developers, players and content creators. "Entrepreneurship is about taking the leap and making decisions where everything is in unknown territory, and more so in the case of a pioneering technology platform such as eGoGames", says Rodriguez. Indeed, this young company's proposal is a unique and pioneering model in Europe that proposes "an additional form of monetization and creation of sustainable business models to empower the emerging mobile video game industry".
A path that, more than once, had to be taken against all odds. "Taking the leap to go your own way is the best professional lesson any new graduate can get from their first professional experience", says the Chief Marketing Officer of this young company. And the lessons continue when it comes to creating your own firm. "The biggest challenge we have had has been technological development, the structuring of automation processes, and algorithms. Our model is based on the ability of players to organise official eSports tournaments among our gamers around the world by bringing any game into the realm of electronic sports".
Another essential aspect when it comes to success when you decide to take the first steps in entrepreneurship is to be aware from the beginning of the importance of having the best partners, "this is why we have built a worldwide support network to cover all fundamental aspects of the company".
Is it necessary to promote an entrepreneurial culture?
Yes. It is an absolute necessity for education to focus on providing more knowledge on how to become an entrepreneur so that all those people entering the labour market can do so.
What have you learned from this experience?
One thing we didn't know is that when you're an entrepreneur you don't have any time off; we've been thinking about nothing else since 2017. A bit of everything. We have learned countless things in many fields that we did not even know existed.
A tip for someone who is thinking of becoming an entrepreneur in the same sector as yours…
Don't give up. No matter how many people tell you you can't, no matter how many setbacks, in the end, it is worth fighting for your idea to succeed. Embrace technology and surround yourself with a team of people who have the same ambition.