One-fourth of the population of Nepal survives below the poverty threshold. However, this has not prevented 25 youths from this southern Asian country from developing the necessary technology and Artificial Intelligence at their business, Paaila Technology.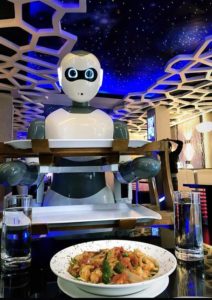 This week, they presented the first robot waiter capable of receiving orders without difficulty.
The CEO, Binay Raut, is only 27 years old and he is the oldest among the team of engineers working at the company. It took Raut several months to build the robot in his small office. Everything that Nepal lacks in technological infrastructure, this team of young people compensated with creativity. For example, Ginger's polished plastic body was painted at a car repair shop near their laboratory.
The workgroup consists mainly of engineers, from all fields, such as electronics, mechanics, software, robotics, artificial intelligence, and a natural language processing engineer. Last year, they jointly won three prizes in their city in the innovative project and best industrial project categories.
Ginger to the test
This bilingual humanoid robot called Ginger gets its name from a common ingredient in this country's cuisine. It measures 1.5 metres high and has been programmed to speak English and Nepali. It can also make jokes, like Apple's Siri or Amazon's Alexa.
During its first work experience, Ginger walked through the Naulo, a restaurant in one of the streets of Kathmandu, which still displays the scars from the earthquake that hit the capital three years ago. This restaurant has only been open for four months and, thanks to its three robot waiters, has become a great attraction for customers of all ages. Proof of their success is the photographs of the robot in the Naulo's Instagram account.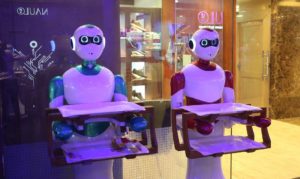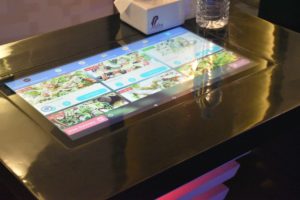 Ginger and her colleagues are capable of detecting movement and avoiding obstacles while carrying trays of food. How does it work? Customers place their orders by means of a touchscreen on the tables and when the dishes are ready, Ginger delivers them. For now, some human waiters are helping the android. However, they are already working on improvements so that the establishment can be managed only by robots.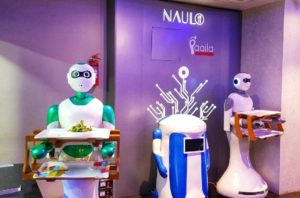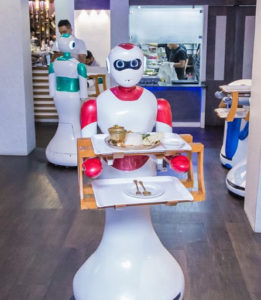 With an eye on the world market, Paaila Technology is currently patenting the design so that it can market the robot abroad. However,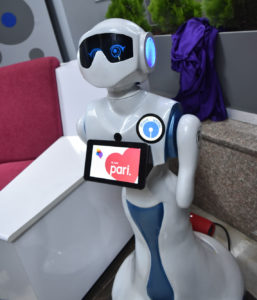 this is not the first one they have manufactured. They have been working on and off, testing, and the result is a line of robots similar to Ginger but for other purposes. "Ferry" is one of them. This robot provides room service. When a guest asks for a toothbrush, some towels, or a bottle of water, any order, "Ferry" will deliver it. Another is "Pari", the first humanoid robot with artificial intelligence designed for human interaction that can dance and even crack jokes.
As they say on their website, Paaila Technology is a business that comprises motivated, talented, and hardworking people. For this reason, they are encouraging other technology enthusiasts like them who are eager to change the world to submit their CVs via their website and join the team.