The United States is an ideal place to combine university studies and a sporting career
The study system in the United States is strongly linked to sport. Their society is built largely to reconcile both aspects. And, in recent years, more and more Spanish students are travelling to America to become part of this system. Once there, athletes are very well considered and may be entitled to scholarships that cover their expensive university studies. In Spain, some companies are providing this opportunity to young people who want to make a name for themselves in the world of sport while they also study at university. One of them is AGM Education, which has been sending students and athletes to the other side of the pond for years.
A clear example that it is possible to combine studies and sport is the golf player from Barrika, Jon Rahm. This golf player from Vizcaya studied at the Arizona State University and also played golf. Once he finished his studies, he started to play as a professional. Another recent case was that of Jon Bakero, the son of the former Barcelona football player, who was selected in the latest draft of the Major League Soccer (MLS), the American soccer league, after completing his studies at Wake Forest University.
More and more Spanish sports persons are open to the option of studying in the United States. It is, in fact, one of the places where it is easiest to combine both activities as the university education system is based on scholarships. "American coaches look for young players abroad to offer them sports scholarships in US universities. The higher the level of the athlete, the greater the options of winning a scholarship and the greater the amount granted. The university sports system in the United States is organized by the NCAA. Depending on your sporting and academic levels, you can be placed in a certain division", reports Teresa Romanos, Head of Marketing at AGM.
Admissions processes
The range of sports for which you can get a scholarship is enormous, from football, basketball, tennis, golf or athletics to more minority sports, such as water polo, volleyball or ice hockey. AGM Sports, which has helped more than 15,000 students over more than 15 years to find the most appropriate university, recommends starting the process in Year 11 or 12. "This is due to the fact that you have to prepare two English tests, SAT and TOEFL, which are required by virtually all universities for their admissions processes", says Romanos. "In addition, it should be borne in mind that in the case of golf and hockey and other sports, they form the teams two years in advance and so you have to start the process in plenty of time", she adds.
Scholarships in the United States can be for sports, studies or both and not all of them cover 100% of the cost, as this depends on the level of the students, their marks, and the SAT and TOEFL tests. "In any case, if they are full scholarships they cover tuition, books, residence and an allowance, but not flights", she specifies.
A detail to take into account is that due to Title IX Law, which was adopted in 1972, women have the same sporting opportunities as men. "For example, if, in the case of American football, 85 scholarships are awarded to 85 men, the law requires that universities provide the same number of scholarships for women's Olympic sports in order to comply with the Equality Act. Tennis, golf, athletics, swimming, football, basketball… are sports played by both men and women, and yet the scholarships for women are larger", says Teresa Romanos.
---
Clara Pérez. Tennis player and assistant manager at Abercrombie & Fitch
"Teachers and coaches made it very easy"
When she was 19, Clara Pérez headed to the United States with the help of AMG Education to combine tennis, a game she has been playing since she was 5, with her studies in economics and communication at the Armstrong State University in Georgia. After finishing her degree, she moved to Florida, to Lynn University, where she completed a two-year MBA in sports management and marketing. "I decided to go because I never wanted to abandon top level sport completely and Spain does not provide many chances to continue with your studies. I was also moved by the fact that I was granted a full scholarship at a good university and I did not want to miss such an opportunity", says this tennis player from Madrid.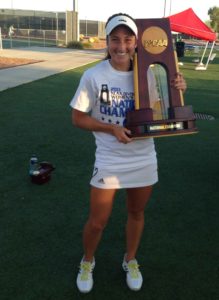 She eventually ranked 39th in the national ranking before crossing the pond. In the United States, I played in the university team in the NCAA with another six girls, all from Europe. The day was divided into classes, from 08:00 to 12:00 or from 18:00 to 20:00, and then training from 13:00 to 17:00. "The coaches and teachers at university made it very easy to combine both activities. And if an exam coincided with a match, the teachers would move it", she says. Her time in America enabled her to rank 3rd in the individual classification, number one in doubles, and to win the national championship on three occasions.
She quickly adapted to the American way of life, although she acknowledges that she found it difficult to adapt to having lunch and dinner earlier than usual. "In the United States people have lunch around 12:00 or 13:00 and they have dinner at about 19:00", she notes. However, she was pleasantly surprised with the academic part. "The study programmes were shorter and more intense, it was easy to cope".
Back in Spain, she takes stock of a "spectacular" experience that has allowed her to master English, have friends around the world, and to have played tennis at the highest level. She also stresses "the strength and the ability to endure she learned, as well as the need to assimilate difficult situations and the opportunities that arise after graduation". In her case, the degree she obtained in the United States enabled her to get a job as assistant manager for business, operations and marketing at the multinational Abercrombie & Fitch.
---
Jorge Porta. Golf player and a Business Management student at Manhatanvile College
"You can organise a schedule that allows you to train"
His passion for travel, the desire to study abroad to improve his English and the desire to continue playing golf took Jorge Porta (20) to the United States. He is currently studying a degree in Business Management, combined with specialisation in Finance, Digital Production, and Film-making, at the Manhatanville College, which is 30 miles from New York City, thanks to a scholarship. "American universities allow you to choose the subjects you want to study, so you put together a degree for yourself and it is very easy to organise a schedule that will allow you to train", he explains.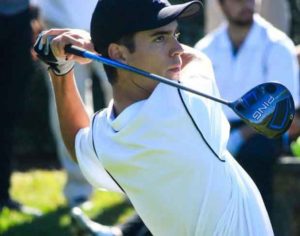 Jorge, who has won the Miguel Angel Jiménez Circuit in Spain, points out that the golf season in the United States takes place in spring and autumn. "Even having to study and go to class, the coaches are fully involved in allowing you to train as much as you can. Here, it is a quite normal for university athletes to do gym sessions from 06:00 to 08:00 in the morning, go to class for 3 or 4 hours a day, and dedicate the rest of the day to training, studying, or working on campus", he stresses.
In addition to his academic training in business studies, for the last two years, he has been uploading his sporting knowledge to a blog that follows the careers of Spanish amateur golfers in the United States, and he has even collaborated with the Ten-Golf and Golflick websites. "I have not yet decided if this is something I would like to do full time. But I am sure that if, at any time, I cannot play as much golf as I would like, I shall be keeping track of this sport with my news articles", he asserts.