Street League is a non-profit organization that tackles youth unemployment through football in the United Kingdom. Originally founded as an organisation working with homeless people in 2001, it now works with 16 to 25-year-olds who are not in employment, education or training.
Its main objective is to end youth unemployment in the UK and, through the attraction of football, try to support young people without skills in order to guide them and help them in improving their capabilities. This will enable them to address their future with greater possibilities of finding a job.
During an intense ten-week programme, Street League participants attend a number of workshops where they learn skills in communication, team work, setting targets, preparing CVs, facing job interviews and, of course, football.
This enables young people to complete their training with national level qualifications. In addition, Street League offers participants six-week work placement arrangements in companies where these young people put what they have learned to the test.
One of the aspects with the greatest media impact of Street League is the ambassadors they have. The Dutch player, currently playing in the Turkish team Fenerbahçe, Robin Van Persi, the former FC Barcelona player, Cesc Fabregas, or the former Brazilian international, Gilberto Silva, are some of the public figures that help in disseminating these initiatives.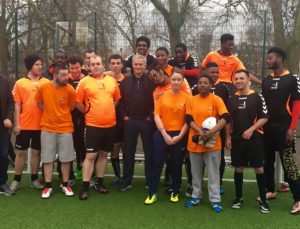 Just a few weeks ago, Jose Mourinho attended a training session and mentioned that, in his opinion, it is good to see how young people can change their lives through football and get on track to finding a job.
Street League has succeeded in extending this initiative to most of the United Kingdom. They receive visits from personalities of the calibre of Prince Harry, while more and more young people are coming to them to try to escape from the situation in which they find themselves.