A delegation from the Novia Salcedo Foundation has travelled to the Colombian city of Cartagena de Indias to participate in various events connected with the 25th Ibero-American Summit (28 and 29 October), whose slogan, on this occasion, is 'Youth, Entrepreneurship and Education'.
On the days prior to the event, several side meetings will take place that will deal with issues of interest for the economic and social development of the region. María Jesús Novo, the coordinator of Pegasus, the Novia Salcedo campaign to proclaim a Youth Employment Decade, participated on a panel titled 'Challenges of Employability in Ibero-America'. In addition to Novo, Carlos Ángeles, executive director of the Peruvian organisation Somos el Perú, and Fabio Medrano, director of Youth Affairs of Boyacá, in Colombia, took the floor. The speeches were moderated by the Panamanian, Meybis Barrios, vice-president of Jóvenes Iberoamericanos. Other panels dealt with public policies, building a culture of peace, the environment and challenges related to youth education.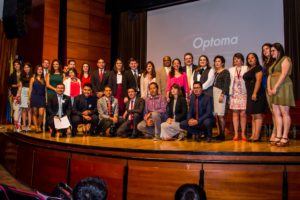 The Novia Salcedo representatives will also attend the 11th Ibero-American Business Meeting (27 and 28), where important political and business leader will be present. Entrepreneurship as an engine of growth, promoting trade and investment in the region and education as a core concept of development and youth employability will be some of the issues discussed at the Cartagena Convention Centre. The event will end with several recommendations on youth issues, entrepreneurship and education that will be delivered to the heads of State and Government.