Introduction Background:
The meeting provides a platform for mutual engagement with the European Union delegation to Nigeria and ECOWAS Region ,successful Youth and women entrepreneurs with policy markers and  youth delegations  on peer learningand collective planning on matters of common interest and Introduction: for investing in youth to create decent and innovative jobs that leaves no one behind.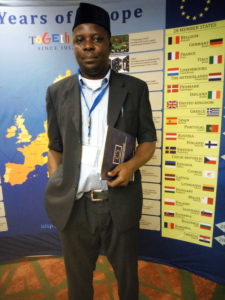 There was an introductory section lead by  Ambassadors Keitil KARLSEN Head of EU Delegation to Nigeria and ECOWAS, Honourable Minister of Communication Technology Mr Adebayo SHITTU, European Investment Bank (Boost Africa Program) Regional Representative for West Africa Mrs Isabelle Van GRUNDERBEECK, Representative from the Senior Special Assistant to the Nigeria President on Industry, Trade and Investment and the Lagos state government, Office of the Senior Special Assistant to the President on Youth and Students Affairs Mr Ibrahim SULEIMAN (Technical Adviser), ANDELA Country Director Mrs Seni SULYMAN, Head Nigerian Erasmus Alumni, Ms Elizabath OGBODO, IMPACTHUB Lagos , Co-founder Mrs Solape HAMMOND, Vice President, Network of International Youth Organisation in Africa Mr Abdrahamane OUEDRAOGO, Nigerian Young Professionals Forum Northern Regional Chairman Mr Alkasim Muhammad ZANGINA, West Africa, Africa Young Enterpreneurs , Regional Manager Ms Joy MICHAEL President African Diaspora Youth Network in Europe (ADYNE),Mr Koudjo Mawuli KLEVO.Also present among others was Prince Israel Orekha West Africa Regional Committee Coordinator  International Campaign for Youth Employment Decade who double as Executive Director Connected Advocacy for Empowerment & Youth Development Initiative. The following are the strategic panel discussion  sessions the West Africa Regional coordinator for International Youth Employment Decade participated in.
PANEL DISCUSSION SESSION ON DIGITAL ECONOMY, THE ROLE OF YOUTH IN ECONOMIC TRANSFORMATION THROUGH ICT.
The ICT Sector is a critical economic enabler that supports GDP growth across horizontal sectors of the economy (manufacturing, education , agriculture , healthcare services and governance amongst others). ICT is transforming global economies through innovation , reducing the cost of business and making governance more efficient. According to the National Bureau of Statistics (NBS), ICT accounted for 8.3%of GDP in 2016 while European Union  seeks to promote the ICT sector by supporting technology development.. Nigeria's Telecommunication revolution has boosted the digital economy particularly through increase in internet usage and use of online payments systems.
Investing in ICT infrastructure, ICT education and the role of Government regulation are critical issues which need to be addressed in order to build on the successes of this digital revolution. Youth plays a key role in developing the ICT sector to create decent jobs for the growing young population in Nigeria and Africa going further , the right business environment and regulatory framework should be put in place to allow youth and ICT to unlock all the potentials of Digital Economy.
PANEL DISCUSSION SESSION ON YOUTH AND AGRI-BUSINESS:DEVELOPING VALUE CHAINS AND JOB CREATION
Nigeria's agricultural sector grew by 4% and accounted for 24% of GDP in 2016.The sector has vast opportunities for addressing food security and reducing poverty through  large scale employment and wealth creation. For the sector to achieve its full potential there needs to be access to high quality inputs for higher yields , effective capacity building on globally acceptable farm practices to ensure traceability and take advantage of the ICT tools available to integrate the rural farmer intothe agricultural value chain and maximize their profits. Agri-business offers tremendous opportunities for job creation. Going further, the need of ICT for enhanced mechanization can make the sector more viable, efficient and attractive for Youth. Accessing the international markets has the potentials of improving Nigeria's foreign earning  but requires a robust certification system and competitive market access in terms of The EU-West Africa Economic partnership Agreement(EPA) that could substantially contribute to improve exports of agribusiness products from Nigeria , and generally from West Africa , to the EU. The EU and  Nigeria established  agricultural dialogue that took place in 2016, is a platform where these issues can be discussed.
PANEL DISCUSSION SESSION ON  INVESTING IN YOUTH :
Investing in Youth is foreseen to be the overarching theme of the summit , which matches the African Union's own theme for 2017 . Young people aspiration s , organistion and networks should be taken into account and feed into the conclusion of any innovative ideas you want to share. Youth capacity development and readiness to champion innovative ideas stay mental and focus on discovered innovation, will attract investors .This session identify concerns , ambitions, aspirations and possible solutions to economic empowerment for  youth , in order to allow them to better contribute to economic development  and growth of Nigeria and west Africa. The need for Nigeria youth to take advantage of the Eramus capacity development opportunity made available by the European Union and partners. Increase budgetary allocation for youth development in Nigeria and youth idea generation hub for testing and strengthen innovative ideas for decent jobs  in Nigeria and west Africa was proposed and advocated for by the Prince Israel Orekha West Africa Regional Coordinator for International Youth Employment Decade Campaign.
In conclusion :
The following are the summary of the way forward for system transformation and for result, to ensure youth as engine of broad-Based Economic take the lead and create the change, If young people give attention to details of  the following .
Increase alliance building
Developing Adaptive strategy and tactics
Knowledge exchange
Innovation and experimentation
Nigeria government must create an enabling environment for implementing  SDG goals 8 and 11
Strengthen youth partnership development
Measurement and evaluation results
Public awareness
Stakeholder engagement
Examine relevant project to date on key advocacy issues and collaboration,
Explore the impact, interventions, actions and learning  forward, by identifying key priorities for youth economic  investment development in Nigeria and west Africa
Building and deepen skills and practice around strategy tools and processes for youth engagement
Share and inspire innovation among young people;
Create ideas that will ensure some measure of sustainability-built to last;
Update Report put together by
Prince Israel Orekha
West Africa Regional Committee  Coordinator
International Youth Employment Decade Campaign
Executive Director;  Connected Advocacy for Empowering &Youth Development Initiative
helpinglivesinternational@gmail.com
facebook.com/helpinglivesinternational
Twitter@cacydforsdg