Youth unemployment is the most impending issue according to the new report by Global Compact.
Sustainable Development Goal 8 (SDG 8) is still the one that offers most business opportunities for the second year consecutive year.
The study titled, Global opportunity report 2016, your guide to a world of opportunities mentions that entities around the world see opportunities in all the Sustainable Development Goals. The survey involved interviewing more than 5,500 leading agents from the public and private sectors. The synthesis is that there is great willingness to implement the 2030 Agenda.
However, there is one major element of concern, which is well-being. We are mainly speaking about health and employment. From the point of view of opportunities, SDG 8 was the most decisive as was the case last year.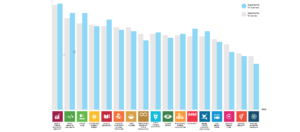 Youth unemployment, the great challenge
Global Compact, which prepared the report, stresses that youth unemployment is a vital issue. Almost half of the people interviewed (42%) mention lack of youth employment as the most urgent issue that needs resolving. A situation that stood out in last year's report over other issues, such as climate change and food shortages.
Therefore, once again we are facing one of the greatest challenges of our times. We have to reverse the situation urgently through our expertise, political will and civil society.
A first step could be to support our International Campaign for the Proclamation of a Youth Employment Decade. Join us!