The 'Centroamérica Desgarrada' ("Torn Central America") study by the University of Costa Rica puts figures to the desire of young people to escape their countries
Scarce opportunities to work and study, together with domestic conflicts, drive young Central Americans from impoverished communities to want to leave their countries. This is one of the conclusions of the 'Centroamérica Desgarrada' study conducted in urban communities in Honduras, Nicaragua, El Salvador, Costa Rica and Guatemala. During the research period, Carlos Sandoval, a professor at the University of Costa Rica, was able to witness the lives of young residents in neighbourhoods with limited resources.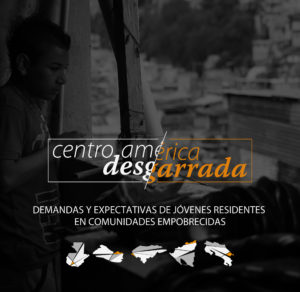 According to the professor, «migration is a global challenge that the International Organisation for Migration (IOM) has calculated at 3%; however, in Central America, this percentage has been estimated to be between 12% and 14%». The study covers four main topics: the description of the local and national situations, demands and wishes for the future, the means by which they imagine to achieve those demands or not, and socio-demographic aspects. Between June and November 2017, the researchers conducted 300 surveys in each community (a total of 1,500) involving young people aged 14 to 24 living in the neighbourhoods of El Limón in Guatemala City (Guatemala), Nueva Capital in Tegucigalpa (Honduras), Popotlán in San Salvador (El Salvador), Jorge Dimitrov in Managua (Nicaragua) and La Carpio in San José (Costa Rica).
According to the young people surveyed, the institutions they trust most are schools (16%) and universities (59%), as well as the media and non-Catholic churches with the same level of credibility (49%). On the opposite extreme, we have national politics (28%), private enterprises (26%) and their local town councils (23%). In response to this panorama, 76% of young Salvadorans stated their interest in moving to another country; a view also stated by 61% of Hondurans, 50% of Costa Ricans, 49% of Guatemalans and 47% of Nicaraguans. You can also view the data in this video.
---
To the rhythm of rap in Guatemala
For young people living in districts outside the cities, it is difficult to find jobs. Sometimes, it is because they lack the money to hand in a CV in the capital and, others, because living in a neighbourhood like El Limón, in zone 18 in Guatemala, is sufficient reason to rule out applying for a job. During the research project in this neighbourhood, Carlos Sandoval met Rogelio Lino, a young "garífuna" (an ethnic group from the Caribbean), who helped him conduct the surveys in the streets of the municipality.
"Unlike his colleagues in the surveying team, Rogelio came to work with a large backpack, which was very uncomfortable. I really didn't know him well enough to ask him why he turned up with a backpack even though the survey work did not require walking around all day. One of the other boys in the workgroup would often make racist jokes about him. Rogelio would answer with a huge dose of wit and irony. I was surprised at how well he expressed himself; I felt he was an activist against racism, a street poet», recalls Sandoval.
Later, he found out that Rogelio liked rap and earned a living performing on buses in Guatemala. He also discovered that the backpack contained a small voice recorder and a loud hailer that he used when he was rapping. «He told me there were few of his songs on the web. Listening to him reminds me that resistance without creativity is not linked to daily life. It was outstanding to see how he could improvise critical and creative lyrics against racism, corruption, or injustice», he says.
A few weeks ago, Carlos Sandoval shared the song that Rogelio sent him via WhatsApp. «In that song, '¿Abusivo yo?' he politicises culture and provides an enlightened view on politics with more skill and talent than many speeches by politicians who are unable to connect with the demands of the new generations», he says.
---
A birthday with hope in El Salvador
In the municipality of Popotlán, in El Salvador, criminals operate as a kind of local power given that the police have very little credibility in these communities. The stigmatization of the place rules out finding gainful employment. «Many people dropped out of school because they came from other areas where there were other troublesome groups», summarises the researcher. In this neighbourhood, Sandoval met Mariana, Aarón, Luis, and Natalia, all siblings. «Aarón saw his uncle, a criminal, killed; they were at a football match. His uncle barely had time to push him away so that he would not be hit by the bullets.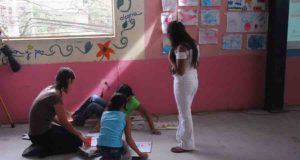 At the young age of 13, he embodies intrafamily violence, structural violence, criminal violence. When you ask him, as part of the survey, what he expects to be doing in 5 years' time, he answers that he has no idea because he doesn't know whether he will still be alive».
What about his siblings? «Luis lives in a neighbour's house where he usually sleeps and eats. Mariana, who is three years old, is very expressive. When she makes sad faces, she associates them to the police, when she makes an angry face, she is trying to rebuke her father for hitting her mother. He works as a private security agent and wears steel-toed boots, with which he has kicked Aarón and Luis. If Isabel intervenes, she gets kicked, too».
After meeting these children, the professor visited the 'Casa de la Juventud' (Youth House), which operates as a nursery. «On the day we were working on the survey, it was the birthday of one of the girls in the house. There was no birthday cake, but lots of hugs. Every girl and boy would get up and hug the girl. I believe there is hope», he reflects.
---
The migration police in Honduras
The coordination and preparation for the survey was a major challenge. The questionnaires and permits were printed in advance and taken to each country; consequently, the suitcase weighed quite a lot. On this stage, Sandoval remembers that, on his return from Tegucigalpa to San Jose, a storm delayed his flight by one day.
«While waiting, I learned a lot, as hundreds of people were waiting to fly to San Salvador or Panama to take another flight to the United States or to Spain, the two most important destinations for migrating Hondurans. This exodus is a huge source of income for the airlines».
When he was on the platform, waiting to board his flight, a message on the PA system required him to report to the migration police, who wanted to inspect his suitcase again. «When I arrived, I saw a sign that said "papers", i.e. the migration officers wanted to know why I had so many papers in my suitcase», he explained.
The officer opened the suitcase and carefully checked the survey packages. He checked that nothing was hidden among the hundreds of sheets of paper packed in bags. «After this inspection, the officer put the papers back in their place. His face showed he wanted to ask a question, but he didn't. Why so many pieces of paper? There were about five thousand». This was nothing more than an anecdote the researcher mentions regarding the thorough inspections conducted at the airports.
---
A homeless person on the streets of Nicaragua
«A youth, about sixteen years old, came up to us while we were conducting the surveys in the neighbourhood of Jorge Dimitrov, in Nicaragua. He was sniffing glue from a plastic bottle. When I asked him where he lived, his answer was straightforward and simple, 'here'. It was not a simple 'here', as I originally thought. He lived in the streets of the city; it took me a while to realise», he says.
This youth had been living in this situation for almost a year and he had no shoes. His family lives on the other side of Managua, a place where it is not easy to find this type of drugs; therefore, he decided to live alone in the street. Sandoval says that the youth repeatedly asked him to give him his trainers. «It hurt to refuse and in an attempt to feel less guilty I explained that if I gave them to him I would not have shoes to walk back to the university. How can you say that to someone who has been walking on the scolding streets of Dimitrov without shoes for God knows how long».
«I told him that I was from Mexico and that we were only passing through, working on a project. 'Take me with you', he said. He added that he would be able to work there, that he would even be able to stop taking drugs, and once he had recovered, he could come back to Nicaragua. At that point, I realised that he was perfectly aware of the opportunities that might be available to him. At the end of that day, I returned to the hotel with a huge feeling of helplessness».
---
Drugs tempt young people in Costa Rica
When I met Gina, she was just over eight months pregnant. She was expecting her fourth child, none of which lived with her in La Carpio, a province of Costa Rica. She slept in the street and sold small amounts of marijuana or crack.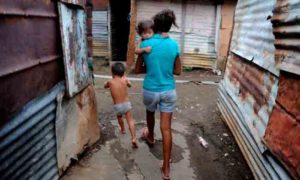 «Conversations with her became more frequent while I remained in this neighbourhood. Sometimes she told me that she wasn't sure whether she would keep the baby or give it up for adoption. One day, she said: I don't hurt anyone, I only hurt myself. She insisted that I help her out by giving her some money. She said that the moment she learned she was pregnant, she stopped using drugs».
The researcher always met her on the same corner selling drugs, and she had now given birth to a baby. «It is very difficult to break out of this situation, especially when there is no chance of finding a job. She seemed to be very happy with the birth of the child. On one occasion, I asked her if she had thought about no longer taking and selling drugs. She answered with the phrase: I don't need sermons».