70% of jobs are provided by private enterprise and the informal sector
Every year, between 160,000 and 200,000 young people join the labour market after graduating from high school and universities in Honduras. Of these, about 100,000 are unable to find jobs. However, according to the Secretariat of Labour and Social Security (STSS), the unemployment rate in this Latin American country fell from 7.4% in 2017 to 5.7% in 2018. This body also acknowledges that young people have the highest unemployment rate in Honduras, followed by people over 35 and women.
Employment is concentrated in the large cities where the private companies are based, most of which are engaged in exporting raw materials. This sector is clearly the engine driving the economy, to the point that recent graduates of technical studies and university graduates join these companies. These companies acknowledge that there is plenty of talent. Actually, 70% of employment was generated by multinationals and the informal sector, which consists of 2,000,000 self-employed people.
School dropout rate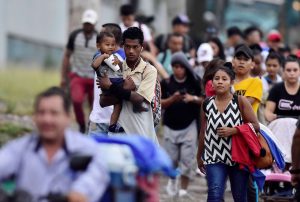 The study also found that pro-education organisations are joining forces to create the conditions for students to stay at school with a view to preparing them for the labour market and encouraging them not to move abroad. According to data from the National Statistics Institute (INE), 23.8% of young people only study, 51.9% work (including those who study and work and those who only work) and 24.3% neither study nor work.
This young population includes people between 12 and 30 years of age, according to the recent Multipurpose Household Survey conducted by the INE, accounting for 36.1% of the national population. More specifically 3,253,516 young people (1,617,761 are men and 1,635,755 are women). It is precisely this group of the population that, disappointed by the lack of employment, poor working conditions and insecurity, has decided to seek new opportunities in the United States.