Lest February, youth unemployment stood at 18.9%, with women being the most severely affected
The overall domestic unemployment rate was 11.8%
In Colombia, according to figures for the last quarter provided by the National Administrative Department of Statistics (Dane), youth unemployment stood at 18,9%. The breakdown of data shows that, among women aged 14 to 28, this figure rises to 25.7%. Therefore, sex and age are two factors that hinder job seekers. This is the highest unemployment rate since 2013.
However, only 13.9% of men are out of work; i.e. almost half that of women. One of the reasons for the increase, in general terms, according to the report, is migration from Venezuela, which places more young people in the labour market. Consequently, 31.5% of refugees are between 10 and 24 years of age, while 42.3% are aged 25 to 54.
This research also reveals that Colombians and residents mainly work in the retail, hotel and restaurant sectors. And to a lesser extent, in agriculture, community services, livestock, hunting and fishing. Statistics also referred to informal employment. 47.3% of young people are employed in poor working conditions. This figure is slightly lower than that recorded in the same period in 2018.
Migration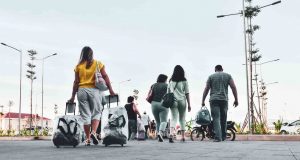 The lack of opportunities has motivated teenagers to leave the country in recent years. The number of Colombians travelling abroad to study has increased by 25.8%. Among other reasons, recent high school graduates argue that universities in other countries may be cheaper, while they can also improve their resumes, and in the future, they hope to increase their income with good employment options.
From 2012 to 2018, about 555,000 people went abroad to study. At the beginning of this year, the migratory movement had not ceased. According to Migration Colombia, between January and March alone, 25,914 Colombians left to study abroad.