The Hays Recruiting Agency has prepared a Labour Market Guide regarding job profiles, salaries and employment perspectives for 2019
The Spanish economy has grown rapidly in the past three years, expanding by more than 3% annually between 2015 and 2017. This has resulted in a fall in the unemployment rate, reaching 17.2% in 2017, according to the Labour Market Guide 2019 prepared by the recruiting and human resources agency Hays. However, despite this improvement of the economy, unemployment figures are still among the highest in Europe and more than 43% of these people have been unemployed for more than one year. Finally, long-term unemployment is having a drastic effect on workers' skills.
Despite all this, the talent available in Spain is well located geographically, there is excellent transport infrastructure and a high standard of living. Workers, in general, are well trained and qualified despite the poor flexibility of the educational sector and its reluctance to change. This report also suggests that the country is attracting a broad base of international talent.
Today's political instability has not affected economic growth. Rather the contrary, the job market will be more dynamic with the promotion of Intelligence and Development, a better single market, better cooperation between academic and business institutions or the refreshing of long-term unemployed workers and, therefore, economic growth is expected to continue in Spain.
Sectoral analysis
Engineering
The market still requires engineers fluent in several languages and with skills in managing teams and high availability to work. Within this sector, businesses prefer young candidates with potential for developing within the field, earning gross salaries that average 33,000 euros a year.
Approximately 35% of the selection processes include PLC programmers and SAT experts. Automotive businesses are still increasing their workforces, placing this sector, once again, above the average. However, the forecast is to the upside and the consequent automation of the industry will continue.
Logistics

2018 has seen the consolidation of the logistics sector and the trend is to continue growing regarding personnel selection processes. Although there is a greater presence this year of new technology profiles, terms such as Blockchain or new management systems will be key for candidates who want to find a job in this sector. In other words, the greater a candidate's knowledge of new technologies, the greater his/her appreciation, salary and responsibility.
Among the most outstanding profiles, we have commercial officers, especially in Air&Sea and Route Development (transport). Regarding salaries, the trend is to continue to grow and businesses are trying to retain talent by offering salary increases to entice them to stay because the competition is offering higher salaries, with an average of 50,000 euros a year.
Information technology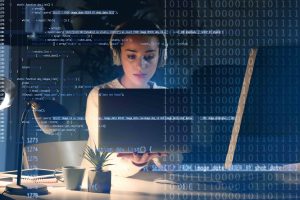 The recovery of the Spanish economy has led to an increase in the number of IT experts. Everything seems to indicate that demand will continue to grow in line with the large corporations that intend to install large technology HUBs and their competence centres for financial reasons. However, small and medium-sized enterprises will find it increasingly difficult to retain technological talent.
On this issue, the study addresses three key aspects involving academic, political and business elements. The academic and political systems must consider their responsibilities to motivate and train an entire generation of technological profiles. On the other hand, businesses must stop seeing salaries in this sector as a cost and start seeing them as an investment.
In addition, they must understand that technology will become a defining aspect of their businesses. The truth is that salaries in this sector have been rising for five years and average around 60,000 euros. Among the most sought-after profiles, we can highlight developers with at least three years of experience in any language. The number of job offers far outweighs the number of available candidates.