Young Latin Americans are fighting unemployment using social entrepreneurship
Dozens of young people in Latin America are opening businesses that, in addition to providing benefits that are translated into account balances, can also be benefit society and the environment
Low wages, long working hours and limited social protection. These are the working conditions of 27 million young people in Latin America and the Caribbean, a region that, after years of staggering economic growth, is starting to slow down and that is unable to shake off one of its major problems: youth unemployment. 108 million Latin American youths belong to a labour market that still has a long way to go to offer decent working conditions. This is what organizations such as the ILO claim; alerting that six out of every ten jobs are not based on a contract and lack stability and the basic labour rights.
A panorama that "generates disappointment and frustration among those who feel that they can't find the opportunities they deserve", says Elizabeth Tinoco, regional director of the ILO. "We have the most highly educated generation we've ever had, in countries where poverty has been reduced. But these improvements are not experienced by young people searching for a decent job", says to the regional director of the ILO in the latest report on youth employment conducted by the organization.
While informal employment for young people in the cities is a concern, in rural areas of Latin America the figures are alarming. Almost 60% of young people living in the country do not receive decent wages for their work. In addition, nearly 20 million people aged 15 to 24 prefer to stay at home, neither working or studying, thus perpetuating the cycle of unemployment, social exclusion and poverty.
Although the youth employment challenge is part of the agenda in many countries in the region and is a theme of political debate, the real situation is complicated and dramatic. Incentives for businesses to recruit young people are just beginning to be offered, the educational system seems to take a different path to the labour market and enterprising young people cannot get their projects off the ground due to a lack of investors.
However, for many young Latin Americans, a horizon filled with dark clouds does not mean they have to open the umbrella and waiting for the rain, but look beyond the storm. For them, the negative outlook has not led to defeat but has become a source of inspiration to undertake modern and profitable business ideas that lead to social and environmental benefits. From a mobile app that detects the risk of disease in poor communities of Rio de Janeiro, to a video game that promotes the Mayan culture, to a company that incorporates plastic containers in the construction of houses in Argentina; all these are business projects headed by young people looking to provide specific solutions to specific needs in their countries.
They also are a part of the global trend known as 'b corporations' or 'Bcorps', which depart from the traditional model of entrepreneurship to generate profitability. Companies that seek transformation with a marked social vocation.
Discovering the talents of young Peruvian women
Mariana Costa Checa is a young woman who has travelled the world with open eyes and a heart beating for her native Peru. After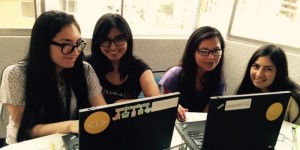 studying International Relations in London and working in Washington with the OAS, she returned to Lima to found Laboratoria, together with Ecuadoran, Herman Marín, and Venezuelan, Rodulfo Prieto. Laboratoria is a company dedicated to training young women in web development to connect them with companies that require their knowledge and skills.
"How is it possible that a country like Peru can lose so much talent consistently? There are hundreds of thousands of bright young girls unable to display their talent because they have not had the opportunity to work or study", Costa Checa said two years ago when he began to draw up the general lines of her business project. The solution was Laboratoria, where girls aged 15 to 29 learn the basic aspects of HTML, CSS and Java Script. They then go on to do internships in companies and continue their education there.
Laboratoria's determined commitment to women lies in the fact that there are few women in the technology sector and to the conviction that introducing them to this field brings diversity to a company, one of the keys to innovation. Laboratoria also focusses on young women at high risk of exclusion, not only to train them, but also to help them enhance their confidence, empowering them to contribute to the transformation of the living conditions of their families and communities, and to allow them to access the labour market. In the nearly two years since Laboratoria opened, 60% of the girls who have passed through its classrooms have found a job.
http://laboratoria.la/
The revolution of purchasing grain by grain
When he was 21, José Manuel Moller went to live with some friends from university on a commune known as La Granja, in a
marginal neighbourhood of Santiago de Chile. As is the case in thousands of Latin American neighbourhoods, the families buy their food in small format packages, only the exact amount they need for the day to eat at home and pay much more than if they bought it in bulk. For Moller, what began as a sociological experiment became the business project, Algramo, an alternative system for families who are unable to make monthly purchases due their low and fluctuating income.
Algramo purchases bulk commodities and sells them through vending machines that the company itself has developed. Thus, families continue to buy small quantities, but at prices that are up to 40% lower thanks to reusable packaging. After the first purchase and consumption of lentils, rice, beans or chick peas, the customer refills the container with a new product, paying only for the food and not the packaging.
Fair prices and an environmentally-friendly recycling system are the key aspects of this revolutionary system, launched by Algrano, of buying staple products for families with fewer resources and that has already helped 44,000 people throughout Chile.
www.algramo.com
An application for people with impaired hearing
"A colleague at university who had impaired hearing dropped out because he was often unable to find a place among the front seats in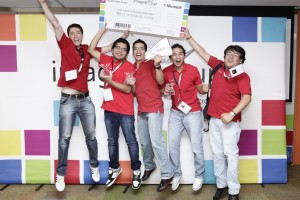 the classroom. This story affected us to such a point that we started to think of a way to help these people" said Ezequiel Escobar in an interview. He is one of the four engineering students from the Catholic University of Santiago del Estero (Argentina) who developed uSound, an application that improves the life quality of patients with hearing difficulties by means of a low-cost solution.
The uSound application makes the most of the processing power of existing mobile phones, transforming them into a control centre for patients with hearing impairment by using Bluetooth headsets. Users can, therefore, receive calls, watch videos and even participate in a class thanks to this wireless system.
There are 740 million people in world with hearing problems and a large percentage do not have the financial means to acquire a hearing aid. At the same time, the use of hearing aids leads to rejection among children, leaving them open to teasing, to the point that many eventually go to special schools, even if they have a minor impairment. Hence the impact of a business project like uSound, which was acknowledged this year by the Young Americas Business Trust, winning the $15,000 prize for the most innovative undertaking.
www.usound.co