Milk, salt and rennet are the only cow and goat cheese ingredients produced by Kepa Agirregoikoa, a young man, aged 24, who has dedicated the past two years to processing the milk produced by his animals to make a natural product, free from additives, that he sells and distributes in Gernika and Durango. Kepa is one of the young people from Bizkaia who have set their sights on the country as a life project. The same can be said of Mikel Corrales, 34, who gave up his hotel job five years ago to cultivate a piece of land in Gernika and who is now involved in a new project with two friends in Areta (Arratia Valley). Or Alazne Intxauspe, 30, who, together with her partner and three family members bought a farmhouse and a piece of land in Iurreta to grow and sell their produce in the local markets.
These are just some of the young people who are taking over from a generation of farm workers that has decreased dramatically over the last sixty years because of the transfer of people from the country to the cities and the natural ageing of the country population. In 2012, only 5% of farmers were under 35, while 35% were over 55 years of age. This is why the country urgently needs new blood, a generational shift to ensure its sustainability. A rejuvenation process that requires the revival of institutions and organisations dedicated to providing aid and gearing agricultural policies towards projects launched by young people, and to ensuring the training, guidance, modernisation and funding for the sector.
A "titanic" effort
"Over the last ten years, we have lost 25% of farms and 47% of farmland in the Basque Country", said Fernando Fernández, a member of Mundubat, an organisation that promotes cooperative and collaborative projects related to sustainable human development and that over the past four years has organised a film festival on food sovereignty in Bilbao and San Sebastian. "The dominant economic model is mainly urban; a model that destroys the countryside, as well as the farming and stockbreeding sector. In this context, it is a titanic effort for a young person to launch an agri-ecological project", says Fernández, who presented some of these initiatives in Bilbao; initiatives for which Mundubat has provided a face through a series of audio-visuals on young farmers and the countryside.
The Basque Country, Córdoba, Cantabria, Galicia… there are many young people who are pulling on their boots, wielding their hoes, climbing into their rotovators and putting their backs into their work to grow tomatoes, squash or beans. However, it's not easy. "Access to the land is very difficult. Currently, the land my partner and I are working on belongs to the bank", says Alazne Intxauspe sarcastically after investing her savings in developing the land she is sharing with Iurreta once the former land-leasing regime came to an end and the owner refused to continue leasing the land.
What began for this Gipuzkoan as a crop for her own use has become a modus vivendi. Alazne Itxauspe gave up her job in the Basque public television corporation to dedicate her time to farming. Her crops are marketed to Nekasarea groups, a network created by the farming union EHNE Bizkaia in 2005 to bring farmers and consumers together. In addition, they have partnered with producers from the Duranguesado district to supply the refectory of a Basque language school. "600 menus each day", she says relieved because, "it is not easy to pay the mortgage and make a living from a farm".
"I have post-secondary studies and I started work making parts for cars in a workshop. Then I worked in hotels but I have always been attracted by the countryside and, therefore, I decided to plant some crops on a piece of land in Gernika", says Mikel Corrales, who, after three years working alone on the farm, without holidays and surviving on 400 euros a month, has now embarked on a project in Artea, on a two-hectare piece of land with a 1,800sqm greenhouse. Mikel spent his childhood in Abadiño but knew nothing about farming, the loneliness, the harsh life in the country. Even so, he is happy knowing that he is doing what he likes; he used to work fewer hours in the workshop, but now he knows that he can sink his hands into the soil and feel free doing what he wants.
Kepa's cheese factory
It is the same feeling that Kepa Agirregoikoa has. He never stops smiling when he talks about his forty goats and four cows. Kepa also began doing something entirely different to earn a living. He worked with a security systems company that he joined on a work placement plan and then stayed on. After two years, he left and, with the support of his family, he renovated the cow-house his father had in Amorebieta-Extano and decided to transform the hen-house into a cheese factory.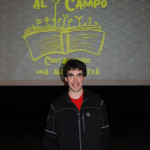 "In the beginning, most of the trouble came from the City Council. They had issues with the construction of the cheese factory and with extending the licence to cover this activity", says Kepa, who complains about the lack of institutional sensitivity regarding farming initiatives. In this regard, other farmers also complain that the institutions create most of the obstacles for those who are starting out in the sector. Many try to diversify production and find that funding is earmarked for a particular type of product in order to promote exports. Other farmers have had to borrow money to meet financing needs, purchase equipment and even build new greenhouses when they already had one.
Village markets are no longer what they were and the town councils do not help in promoting the purchase of local products, say some young farmers, while those dedicated to livestock complain that there is no slaughterhouse in Bizkaia. "Fortunately, more and more people are becoming aware of the need to buy local produce", say Alazne and Mikel, for whom groups of consumers are essential elements in the survival of their projects.