Why have you decided to form part of the Pegasus campaign for the proclamation of a Youth Employment Decade?
One of the main goals of the Jane Goodall Institute is to reach the youth and convey a message of hope, that includes being aware about the environmental and socioeconomic problems and challenges of our Planet, but also acting to make it a better place for people, animals and the environment. The name of Jane Goodall's youth program is Roots&Shoots, and it is present in more than 120 countries, and reaches beyond 10,000 young people across the world, from kindergarten to university. Beyond the educational content of this program, we, at the JGI believe that those values and actions have to be taken to the next step: environmentally sustainable jobs that make a difference in the world. That is why we decided to join the Pegasus campaign.
How will you implement this support for the Pegasus project?
While Roots&Shoots is a campaign that reaches externally to all youth in the world, we also have several internal areas where we try to steadily facilitate access to young people, both in Spain and Europe, but also in Africa, where the JGI is established since 1977. As an example, in our work at the Fouta Djallon Research Station, in Senegal, we provide with training and jobs to local and expatriate researchers and assistants. We try to capacitate and promote young people whenever it fits.
Senegal has a 30% youth unemployment rate, while in Guinea it stands at 60%. What do you find most striking about these figures?
Those are countries in transition. From an agricultural subsistence model, into a urban second and third sector economy. Young people are looking for other opportunities of work and training, and demographic growth makes also difficult for farmers to support their extended families. But at the same time, the economy has not yet transitioned into a different model. So, young people find themselves looking for opportunities that do not yet exist out of the primary sector. Many explore risky sectors like manual mining, most of them without success and putting their lives in danger.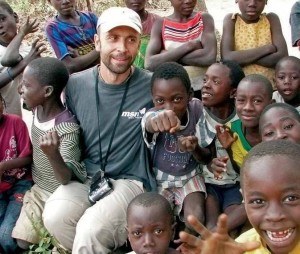 What projects is the JGI carrying out in these two countries to fight youth unemployment?
The IJGE has currently hired 13 local workers, both men and women, as field assistants in the various departments within the "West African Chimpanzee Conservation and Natural Resources Sustainable Community Management" programme at the Dindefelo Community Natural Reserve and surrounding areas. These local assistants also receive training in various disciplines each month, ranging from first aid, the identification of fauna and flora or the use of new technologies applied to conservation. Another of the projects conducted by the IJGE on environmental education-awareness also employs two local youths trained to participate actively in the development of the project. Furthermore, another 4 local workers have been hired to work on the Fouta Jallon Biological Station.
What is the role of young people in institution like the JGI?
IJG Spain actively works in Spain as well as in Senegal and Guinea Conakry. The field activities and the environmental awareness-education campaigns conducted in Spain are carried out by young volunteers who transmit sustainable behaviours, such as recycling, saving water and energy and responsible consumption, among many others. The conservation programme conducted in Africa also depends on young local workers who are trained by expatriate staff to perform research work applied to conservation, such as environmental education-awareness projects.
The JGI carries out very important tasks in the field of youth training. Could you speak about the work being performed via the Roots&Shoots program?
Roots&Shoots groups prepare and perform environmental awareness activities in schools, universities, hospitals and parks in order to transmit the need to be respectful with the natural environment that surrounds us. Activities such as those mentioned above are performed regularly in more than 100 countries around the world.
How many young people have benefited from this and other initiatives?
In our program in West Africa we have trained approximately 50 young Spanish researchers in the last 5 years and nowadays 8 of them have been hired by our or other organizations. Regarding employment in local African communities, we have provided jobs for about 45 people, half of them young, during these last 5 years too. We expect to have influenced and motivated many hundreds of young people within our working territory to be trained and work in nature protection or research jobs in the future.
What message would you send to Spanish youth to engage in volunteer programs?
We all want things to improve in our lives; however, for a number of reasons, we are not the only ones that have an effect on the future of our society. Being a volunteer in this type of programme provides you with the opportunity to contribute your knowledge, to work with enthusiasm and with the desire to try and improve things at least.