Electronic sports competitions are becoming a job opportunity for many young people
These are probably the people who enjoy their work the most. They have just come of age and they are already earning a living in electronic competitions followed enthusiastically by millions of young people around the world. There are between 500 and 700 professional players of eSports in Spain. Enthusiasts have had an appointment in Bilbao at one of the most important events of the year, the Fun and Serious Game Festival. "This is a world with a great future that is growing at a very fast pace", says Carlos Pérez, 27, manager of the Baskonia video game division. These two reasons led to the well-known basketball club from Alava to merge with the team, Atlantis, in 2015 and, since last January, to acquire its own team. The team consists of 16 young people aged 18 to 24 who compete in the 'League of Legends', 'HearthStone' and Counter Strike'.
Five of them, three Spaniards and two Belgians who have left their studies to experience this adventure, form part of ThunderX3 Baskonia. They share a house with their coach in the centre of Vitoria where they dedicated 10 to 12 hours a day to train "LoL", the star video game that is played each month by more than 100 million people. "Apart from a mechanical ability when playing, to do this you need several qualities, such as being very calm, and understanding that this is a job. Many people, although they are very good, still see it all as a video game, but when you are getting paid for it you realised are going to be interviewed, do photo sessions, things that can seem very amusing but that are not so great when you have done them 15 or 20 times", explains Carlos Perez.
As in other sports, the ThunderX3 Baskonia quintet, which is sixth out of ten teams in the Professional Gaming League, one of the three that exist in Spain, has a coach. "In addition to what he contributes to the game, his role is important when managing the group. He has to know how to deal with the players. He also finds opponents to train against each day, provides an analysis on the opponents, prepares a draft. The coach has to dedicate many hours of work", stresses the manager of the Baskonia.
---
"I would never have thought I could make a living out of this as I am doing"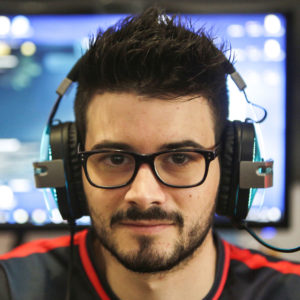 From Valencia, Sergio 'Diamond' Martí, 23, left his second-year course in computational mathematics to live his great passion, the video game 'League of Legends'. In January, he joined ThunderX3 Baskonia, a team with which he is competing in the Professional Gaming League.
When did you start playing?
Four or five years ago, although I think that you only become a professional player when you earn enough to consider yourself as such.
How many hours do you train each day?
I usually spend about six hours training with the team and then three to five more hours by myself.
What was your role in 'LoL'?
I played in the middle position, in the central area. I provide information about my line and then I play my characters.
What qualities must a good player have?
Mainly a good understanding about strategy, and skill.
Have you ever thought you could live from this?
Other teams were interested, with lower wages, but I never thought I could live from this as I am doing now.
How long do you think you can enjoy this profession?
As long as possible, but the truth is that I don't know. It may end next year or two or three years more. The contracts are for each season, they are renewed every six months and mine expires in December.
When you retire, what would you like to do?
I would like to dedicate my time to mathematics, but I would first have to go back to my studies and finish.
What advice would you give young people who want to make a career of video games?
I would recommend they didn't drop out of their studies or whatever they are doing until they have a good offer on the table. If any team talks to you, you can think about it and talk to your parents, not before.