Doctor in Economics and director of the Deusto Business School, Iñaki Ortega has just published a new book, 'Millennials, inventa tu empleo' ('Millennials, invent your job' – published by the International University of La Rioja within its 'UNIR Emprende' collection). In this work, he identifies the millennium generation -"creative young people who are called upon to get us out of the crisis" -; he portrays fifteen Spanish Millennials and includes tips from ten visionary business executives.  According to Ortega, entrepreneurs "are the new rockers because today entrepreneurship is a type of active non-conformism to change the world and make it better".
– What features define Millennials?
They are twenty-something to thirty-something years old and are not, as some have labelled them, frivolous and lazy; they have invented the Sharing Economy, they are the key players in the revolutions that demand democracy in half the world, the agents of new innovation for companies, the entrepreneurs that make our lives better, the businessmen who hire our children, digital natives who allow us to work less and, of course, the people called upon to get us out of the crisis.
– Is it a global phenomenon, i.e. do they share the same values in Europe, Latin America or Asia?
Young Millennials are entrepreneurs because it is the tool that enables them to be consistent with their way of being. Technology, freedom and creativity merge into the thousands of companies that are created each year in our country. Today, entrepreneurs are digital natives and, without that hyperconnection, they do not understand social relations or work. In contrast to the stereotype that terms them narcissists and lacking commitment, they are the key players in the demand for democracy from North Africa to Hong Kong. They have invented the Sharing Economy that focuses on the use of goods and services in contrast to property that is sweeping sectors such as tourism.
– There is a 50% unemployment rate affecting young people in Spain and they are moving to other countries. A bad situation…
Millennials are inventing their own work, creating new companies but also new professions and generating new needs that they satisfy. It's not easy but unlike other generations, they will write their own future.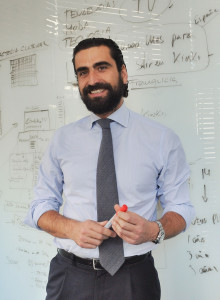 – What can they contribute to large companies?
It is difficult today to find a large company that does not depend on open innovation. No matter how much talent and good ideas you have within a company, you always need more and better outside. Failing to consider this new economic paradigm leads to missed opportunities or even bankruptcy. Within business, it was usually thought that big ideas could only arise within large companies from the accumulation of resources and talent. Based on this view, innovations had to be protected by patents, industrial secrecy or even isolating laboratories from the rest of the organisation to preserve the exclusivity and to recover the large investment made. Today, the economy, based on the capacity to develop new products and services that will enable us to compete, has proven the error of that closed way of thinking and acting. There are many companies around the world that are benefiting from this new wave of innovations: General Electric, 3M, Procter&Gamble and, in Spain, headed by Telefónica, BBVA and Ferrovial , there are many open calls for the ecosystem of entrepreneurs and innovation to help solve the many challenges large corporations have to face at the moment. A fact well-known by large companies worldwide and in all sectors so as not to end up destroyed by the creativity of new players, such as Amazon, Uber, PayPal, Airbnb or Whatsapp.
– If you had a 14-year old son, what studies would you advise him to take to increase his options of finding a job?
In my book, I try to explain what Millennials are like, to understand them and understand their expectations. I have been working with them for the last ten years and I can say that they have started to invent their own jobs, create new companies, new professions and generate new needs. However, in order to achieve their goals, this generation will have to take into account the so-called four S rule (STEM, Startups, Sharing Economy and Switch). In other words, they will require solid background in STEM (Science, Technology, Engineering, Mathematics). They will use Startups to invent their own jobs and hire others. They will have to make the most of the Sharing Economy to try to solve social problems worldwide. In addition, above all, they will have to be willing to continually change profession, industry or country (Switch).
– You say that minijobs and freelance will be common terms in the future, that we will have to get used to switching jobs and residence. Do we have to forget about stable employment?
Professional careers will develop in a way that is completely new to us. Several simultaneous jobs, alternating jobs for companies with self-employment and we shall contribute our talent to several large and small firms throughout our working lives. In many cases, we shall prioritise personal life and work less, from home, with customised timetables or simply taking a year off. Minijobs, freelance or start-ups will be common terms regarding employment in the near future. For Millennials, that future is already here. Young people who have come of age with the new millennium. In 2025, as I have already mentioned, they will account for 75% of the global workforce. The most dynamic economies and companies in the world are taking steps to transform this new talent into wealth and employment.
– Your book is entitled 'Millennials, invent your job'. Will many jobs that do not now exist be created in the coming decades? In which sectors?
The speed of technological innovations is the reason, according to the US Department of Labor, that 65% of the jobs of future years have not been invented yet. The most prestigious observatories place these future niches in sectors, such as health, agriculture, clean energies and smart cities. New professions, such as technobiologists, big data analysts, drone engineers or corporate mathematicians will join the group of highly demanded jobs, such as  SEO-SEM specialists, new experts in MOOCs or programmers. Everyone knows that this potential for creativity is an opportunity for those who learn how to take advantage of it and, therefore, all large companies are focussing on Millennials, not only to hire them or use their innovations but to become more familiar with the new customers of their products and services.
– Will start-ups and micro-SMEs generate more employment in the future than a multinational?
For my book I interviewed some of the most visionary minds in our country, including Carlos Barrabés, and I agree with their opinion about what you are asking. "Today, a young person dreams of establishing a company. Based on this great potential, a multitude of forms of support, both institutional and private, have arisen that provide capital, knowledge, access, etc. There are hundreds of aid programmes for entrepreneurs in the world, increasingly based on similar methodologies and formats. As the means to create become democratic, the economy will increasingly become an economy of entrepreneurs. Within this entrepreneurial movement, an especially relevant role is that of social entrepreneurs, who manage to connected global solutions and local needs".
– You speak of the increasing importance of the Sharing Economy and of social entrepreneurs, with examples such as Uber. Is technology still seen as a major destroying agent of jobs? How can we overcome this resistance?
In the book, I say that entrepreneurs are the new rockers. With this comparison I am trying to express that young people see entrepreneurship as a philosophy of life. Just like rock & roll symbolised a rebellion in the 1960s against the social and political rules of the age, today, entrepreneurship is a type of active non-conformism because it is a means to change the world and make it better. Bill Drayton, the founder of Ashoka, the global network of social entrepreneurs, explained in the Harvard magazine, a few years ago, his theory on hybrid value chains, in virtue of which large companies and social entities working together with entrepreneurs can solve the most important problems in the world without sacrificing any of their interests. It is not charity and it is not only business, it is about being innovative to save the world. "Social entrepreneurs are not content just to give a fish or teach how to fish. They will not rest until they have revolutionized the fishing industry."
– What role should governments play? I suppose they will also have to change their views on reality because it is changing very quickly.
We live in a time of profound and rapid change. That speed is resulting in the solutions being slower in appearing than the problems. Therefore, we need to align the agents that can change that trend. Social entrepreneurs call this co-creation. A sharing process between equals: large companies, governments, financial institutions and entrepreneurs that, all together, will co-design and co-implement new and improved goods and services. No field will remain beyond the influence of the new way of thinking of the Millennial generation. Politics will not be the exception, and neither will our country.
During another change of era in the eighteenth century, similar to the one we are experiencing now, the English thinker John Locke dared to question the educational methods of Oxford University due to its lack of empiricism and defended the need to adapt to the new times. Oxford survived and remains an example to be followed. Today, as in that era, only those who adapt to the new times based on exemplarity, meritocracy and closeness will survive or continue in politics. Millennials, as we have seen, are global, collaborative and defend their freedom and that of others. That is the example they can offer the world of politics.
– The Basque Country used to be at the head of industrialisation in Spain and still occupies a privilege position. Is it ready to face this new labour and social era?
Undoubtedly, but the Basque Country cannot fail to apply the three-Ts that the American economist, Richard Florida, explained in his book 'The creative classes' some years ago: Tolerance, Talent and Technology.