They share a passion for games and for the possibilities that the interactive world unfolds before their eyes. Jon Vivanco and Ane Celaya are two young people from Bilbao, aged 25 and 22 respectively, who are studying a degree in Fine Arts, specialising in Digital Art and 3D Animation, at the DigiPen Bilbao centre, which opened its doors in Zierbena in 2010 and that has been attended by more than 200 students.
Why did you decide to explore this field?
Jon Vivanco: Since I was a child, I loved to draw all kinds of characters and creatures, and I have always been and still am a person who can spend hours playing video games and missing lots of sleep. However, I had never considered art or games as anything other than a hobby, and it was when I was finishing my nursing studies at the Basque Country University that I started to think about my future and whether I really wanted to spend my entire life working at something I really liked but that was far from what I did in my spare time; so, I started to look for a place in this digital art field.
Ane Celaya: I have always liked cartoons and video games, even though I had never considered working at this. I just knew that I wanted to do something with a creative element and I decided on architecture. However, my brother heard about this university and decided to enrol for a programming degree. One day, I accompanied him to a DigiPen lecture and they talked about the animation degree. It was love at first sight; I liked the idea so much that I decided to join.
And why did you choose DigiPen to take the course?
J. V.: I read about DigiPen for the first time in a newspaper article. Coincidentally, my mother kept it knowing that I wanted to study something related to art and design. Personally, the syllabus DigiPen offered was the most specialised and professional I could find near my town.
A. C.: After I realised that I wanted to work in this field, I decided to enrol in DigiPen because I considered it was a serious school and it was among the top universities in the United States. Then I was able to see some of the work the students were doing during their studies and that encouraged me even more.
Do you think that the video game industry is a field in which you can find a job?
J. V.: I think it is an industry that is growing and that it is one of the youngest industries today. Therefore, there will always be more work than in other fields that have existed for longer. Even so, I think we are increasingly seeing more and more advertisements on these issues and that indicates there is a demand; therefore, we shall have to work hard to get a job.
A. C.: It does seem to be a booming industry that needs more and more professionals to cover specialised jobs to meet its needs.
Do you plan to work or to train abroad or stay in the Basque Country?
J. V.: If I have the chance or the luck, I would like to work in this field, of course. I would like to be part of a project and start to take my first steps in this industry.
A. C.: The ideal situation for me would be to find a job as soon as I finish. You always have the option of further training and enrolling in other courses to learn more without having to do it full time. In relation to going abroad or staying; I don't mind one way or the other. I have always enjoyed travelling and seeing new cultures, but it would be great if we could work here in a business with great growth potential.
What are your favourite games?
J. V.: Open-world gaming. Those that give you the chance to create a character and your own story without having to follow a pre-established path. I love the feeling of being free to explore. For example, I could mention games, such as Oblivion, Fallout…
A. C.: Since I was a child, I have enjoyed 3D platforms. They are usually quiet games and I enjoy exploring the virtual worlds they provide. My favourite games include legendary sagas such as Spyro, Crash Bandicoot, and Ratchet&Clank.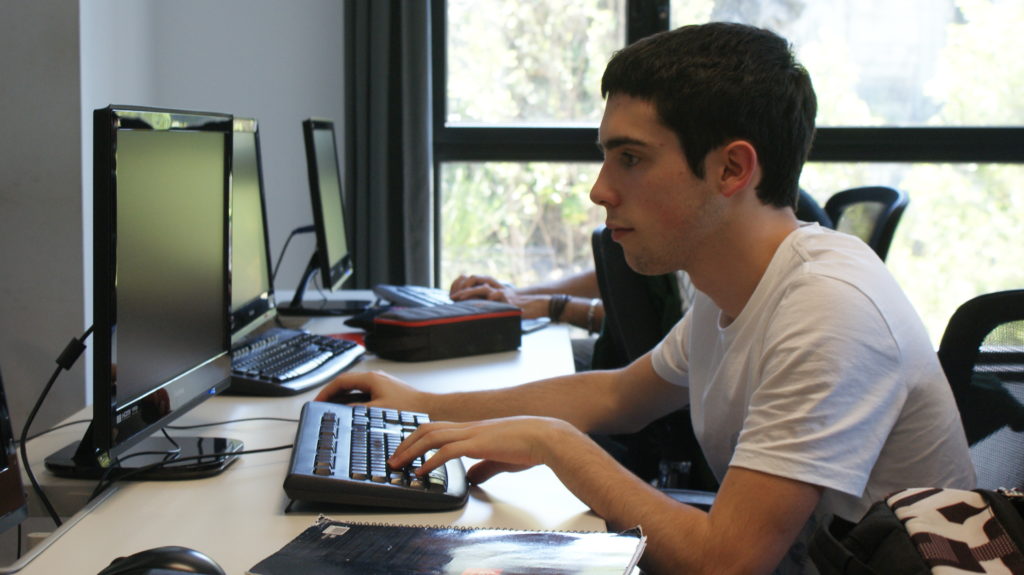 And some you fail to understand how they have been so successful?
J. V.: In general, I fail to understand the success of some eternal sagas of games that repeat the same formula again and again. I believe you should innovate and go beyond the standards that some companies impose on themselves sometimes.
A. C.: I think all the games that have been successful included some decisive element that should not be underestimated; however, that does not guarantee the quality or the enjoyment those games provide. In my opinion, the greatest disappointments have been mainly sagas that carry on but without the quality they had or that something that made the previous games so special to me. For example, this is what has happened to Spyro. It used to be one of my favourite sagas but I don't like how the latest games have evolved.
When you play, do you enjoy games as users or do you analyse them technically?
J. V.: I think that once you understand how games work, the effort put into them and the difficulty of certain aspects, it is impossible not to analyse them or to avoid concentrating on details that sometimes have nothing to do with the storyline of the game you are playing.
A. C.: I enjoy them, of course. You can continue to enjoy the games, although you can't avoid analysing them as you play. Thinking about how they work also helps inspire you and even allows you to appreciate the work put into making them.
Have you created any games of your own?
J. V.: I have contributed to creating two. At DigiPen, we focus on creating two games, one in 2D and one in 3D (the latter is more complicated), working with other artists and programmers. Both are one-year projects.
A. C.: The art studies include two subjects related to creating a 2D and a 3D video game. In both cases, you are part of a team that includes people from the programming degree. We try to make a game that is as advanced as possible and that people will enjoy, which is the most complicated part.
Do you think the level in the Basque Country and in the rest of the country in this field can compete with the level in the United States or Japan?
J. V.: I think the video game industry is starting to grow in importance and in visibility within the country. However, it is normal to see a difference in resources when compared with the main players in the Japanese and U.S. industries because they have been leading video game creation for years. Even so, the talent of the people here is just as good as that of the people making games in other countries.
A. C.: The US or Japan are the leading players in the gaming industry while we are an emerging sector. We may not be at their level yet, but I am sure that if we persevere in search of excellence, we can become a leading player.
What are Basque players and those from the rest of the country like? What do they want and like?
J. V.: I imagine that everyone is looking for the same things in a game. They want to enjoy themselves and have a good time.
A. C.: As they are large consumers, they are also very demanding. This helps the national industry to create higher quality products. However, players, wherever they are from, want to enjoy themselves and have a good time with a game.
Is it as nice a job as it appears to be from outside or is it a difficult job that requires lots of hours and great technical training?
J. V.: In my opinion, one thing does not detract from the other. It is a nice job but it also requires hours of work and study. What is surprising when you start to understand the work process behind a video game or an animated film is that you start to appreciate them more and realise that the things you see on the screen are not created by chance like a computerised miracle; they are the result of many hours of work.
A. C.: It is a beautiful job but extremely demanding. People are not usually aware of the number of hours and work put into each project. It is a profession that requires lots of effort and dedication, although it is also very rewarding when you finish a project and it works.